APS GANTTPLAN® – from entry-level to high-end solutions
Industry 4.0 projects require undisrupted flow of information between the business and production processes and full transparency of the process decision making. GANTTPLAN ensures smooth order processing, short delivery times and cost optimization for tightly coordinated manufacturing facilities, and these are some of the trademarks for the successful Industry 4.0 smart factory of the future.

The interactive GANTTPLAN planning tool sits squarely in the IT infrastructure between ERP and Shopfloor systems. The Advanced Planning and Scheduling (APS) solution makes it possible to optimally plan orders based on the actual resources and capacities defined by schedule and cost factors. Results can then be visualized in GANTTPLAN's graphical control console.
The GANTTPLAN® product family is Industry 4.0 ready

The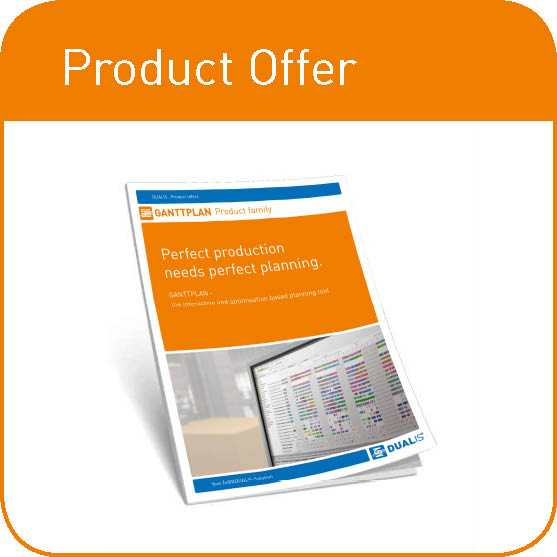 product is currently in its fifth generation and under continual development by DUALIS. Version 5.x delivers important functional building blocks to implement today's Industry 4.0 requirements that were not available in version 4. The latest version also includes a revised personnel planning module for ideally defining interaction between employees and machines, and support has been added for better collaboration between different production areas. GANTTPLAN 5 is now Cloud enabled, and additional focus for the new release has been on strong data protection and security.


The DUALIS APS product family is available in several configurations: GANTTPLAN OE, GANTTPLAN SE, and GANTTPLAN VE. The versions offer a tiered entry to the world of production planning and optimization with a modular design that supports company-specific scalability, starting with an entry-level visualization tool right up to a high-end optimization platform for complex assembly processes. For the Smart Factory each product can be individually customized to support the efficient, transparent and safe implementation of various planning processes.

The GANTTPLAN standard is always up to date with the latest technology knowledge on the market and is tailored to customer as well as industry specific requirements.
Are you looking for an intelligent solution to optimize your production processes, resources and personnel planning, or improve cost savings? Or perhaps you would like to equip your company for Industry 4.0? In any case please feel free to contact us and our GANTTPLAN experts will be happy to listen to your needs and provide some input. Together we will find the right solution for you!